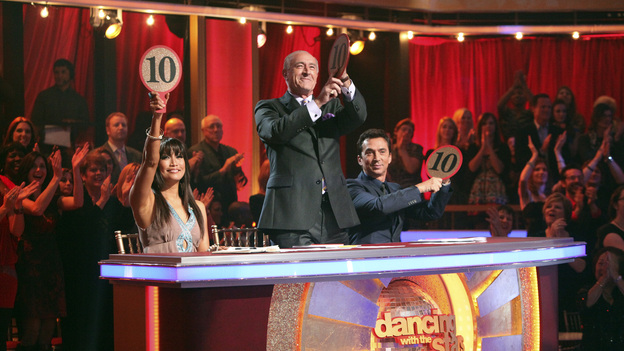 There wasn't that much interesting about last night's show – except for the first perfect scores! The judges were in good moods, the "celebrities" worked extra hard and their hard work showed! Let's get right into the scores!
J.R. Martinez and Karina Smirnoff: 30/30 waltz + 30/30 instant jive = 60 out of possible 60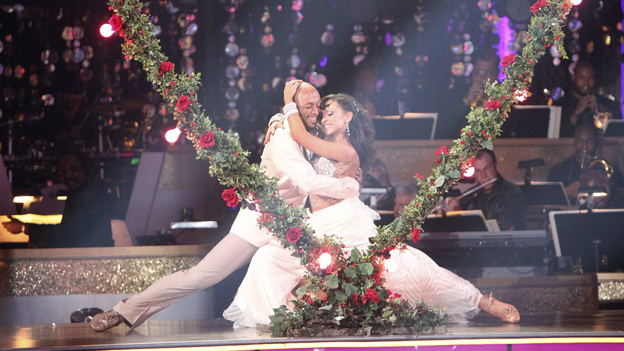 J.R. earned those 10s all on his own, with ferocious kicks and the ability to create musical magic in that first waltz.
Ricki Lake and Derek Hough: 28/30 waltz + 24/30 instant jive = 52/60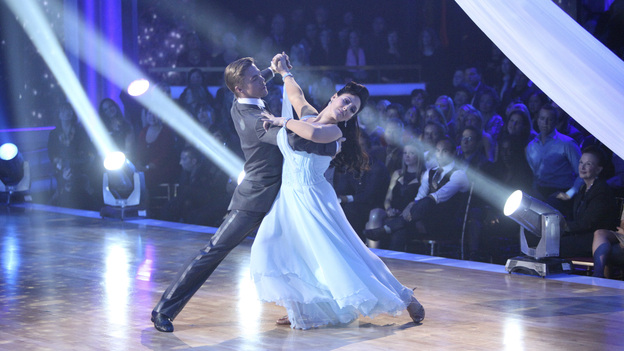 I couldn't find anything wrong with their light-curtained waltz, which felt it was taking place on a giant canopy bed with a twinkling-star floor. One question: What happened to her rib injury? Magically gone? Unfortunately, Ricki and Derek's instant jive was a big ol' mess. I like what Bruno said, "It wasn't terrible…" Nice.
Hope Solo and Maksim Chmerkovskiy: 27/30 quickstep + 25/30 instant jive = 52/60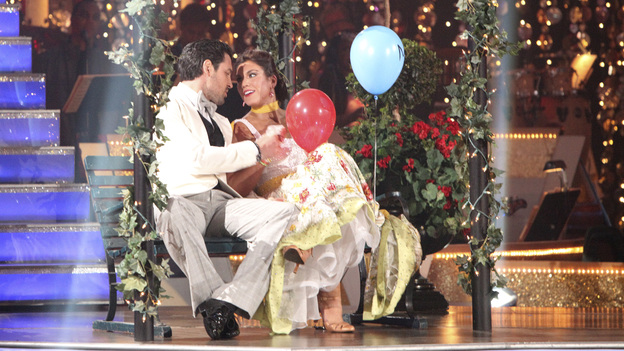 "I will take full responsibility for being overly rough," Maks told Hope (duh), and if you didn't buy his new nice-guy persona in training, here's an idyllic family dinner scene featuring Val (!), the Chmer-dog-skiy (!!), and Maks' parents (!!!), who can all vouch for him as a decent human being. During the instant jive, though, they looked DAMN good and Hope absolutely danced up to the level of Maks.
Rob Kardashian and Cheryl Burke: 27/30 quickstep + 24/30 instant jive = 51/60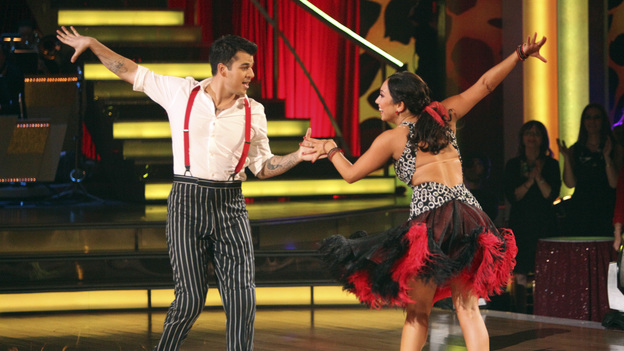 Having Rob dance to Hall and Oates' "Maneater" — a song he'd surely never heard of — was pretty hilarious, though, considering the cougar factor and the leopard-print graphics throughout the ballroom. Rob seemed super tired and the whole thing was a bit of a mess. Why did they stuff him into those black and white pinstripe pants again? The kid just confessed last week that he'd never worn jeans due to ass shame, and this is how you reward his honesty?
Nancy Grace and Tristan MacManus: 24/30 tango + 20/30 instant jive = 44/60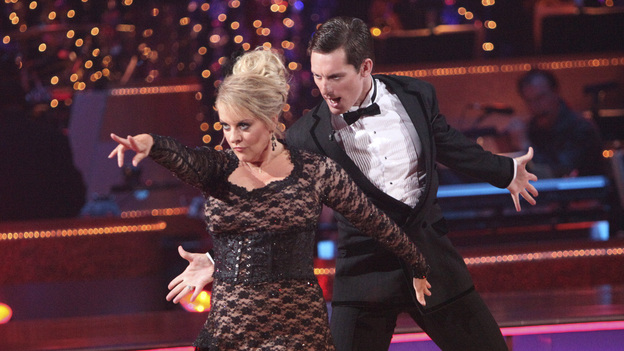 After a rehearsal package revealing Tristan's frustrations with a partner who's convinced she knows how to dance much better than he does (?!), "The Naughty Lady of Shady Lane" was an apt song choice for their naughty black lacy tango. At one point during training, Nancy popped off at Tristan because he had yawned. "Are you actually acting tired? Because you don't have twins that get up at 5, and you don't have a full-time job," she said. Um, honey, I think his full-time job is putting on a happy face whenever your busy schedule opens up. Needless to say….Len said it best last night: You've had your time here, but it is over. Time to go home."
Who's going home? Nancy
Who deserves to go home? Nancy
Done and done!