Happy Halloween DWTS night everyone! You know it must be some sort of "magical" night because Len is in a great mood! And the costumes were fantastic!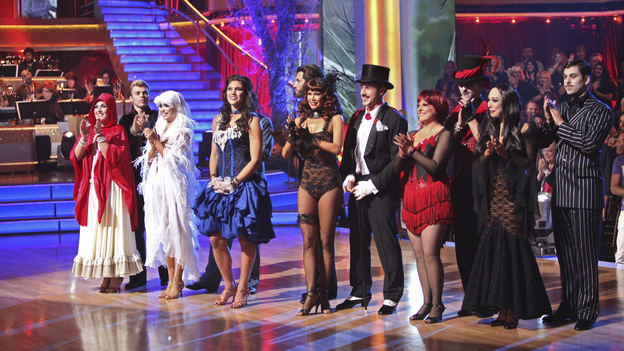 Before we start though…..
Bela Karolyi and Nadia Comaneci vs Maks Chmerkovskiy and Hope Solo on the dance floor anyone? Who knew he was such a rough task master? I feel like if he were in charge of her diet and sleeping arrangements, he would have put Hope in a box and given her bread and water all week! Yikes….lighten up dude.
For example: While Chmerkovskiy and Solo were practicing with Team Paso Doble, Maks shoved the soccer player in the shoulders before frantically whipping her around. An exasperated Solo responded by saying, "Would you stop being you?" Chmerkovskiy then left the rehearsal hall, leaving teammate Derek Hough to instruct Solo instead.
And did anyone else notice the chill in the air between Maks and Hope after each time they danced? What do you guys think of Maks' behavior during rehearsal this week?
OK now for the last remaining 6 couples recap:
Ricki Lake and Derek Hough
27/30 paso doble + 26/30 team paso = 55 out of possible 60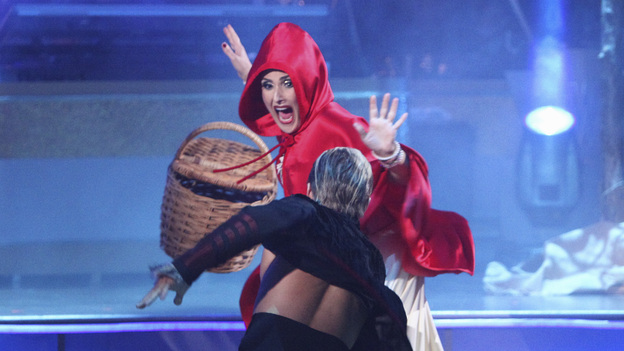 Wow, that's a big word/number jumble. Long story short: They're in the lead again after captaining the winning Team Paso and performing a Red Riding Hood paso doble that displayed beautiful "shaping". Granted….she was grumpy watching everyone else, but when she took to the floor you couldn't even tell she was injured! Strong work, I say!
Rob Kardashian and Cheryl Burke
25/30 tango + 26/30 team paso = 51/60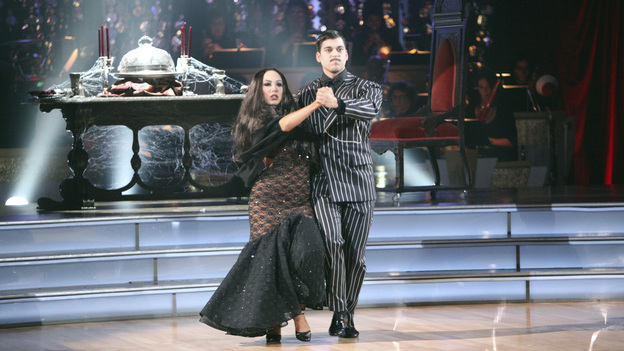 "I don't think my family's creepy," said Rob. HA! Do you ever watch your own show Rob? Huh? Clearly NO! Ok, in all seriousness now, I actually loved his Tango and I loved him as Mr. Adams. He just does better and better every week, which in my opinion is what this whole show is all about. I am definitely on Team Rob now to make top 3!
Hope Solo and Maksim Chmerkovskiy
24/30 samba + 26/30 team paso = 50/60
Is it kind of sad that I thought this was a Kid Rock song about Sweet Home Alabama? For shame, Becky! For Shame! The week in review began with poor Maks having hurt his toe. We even saw footage of his hand touching his toe, so it had to be serious. New guy Teddy waltzed in to actually teach Hope the steps while WereMaks barked orders from the sidelines. Teddy did these weird things, like saying "very good" to Hope and not verbally berating her when she messed up. It was crazy! Long story short….they got the same score they always do. NO IMPROVEMENT. And, with Mak's horrible demeanor, I don't think personality will help them for much longer. Usually, Maks is so affectionate with his partner, and has been affectionate with Hope in the past. But this week was so tense – he was constantly standing a foot away from her, and didn't have his arm around her like he usually does. Man, send this couple home…they are miserable.
J.R. Martinez and Karina Smirnoff
25/30 tango + 23/30 team tango = 48/60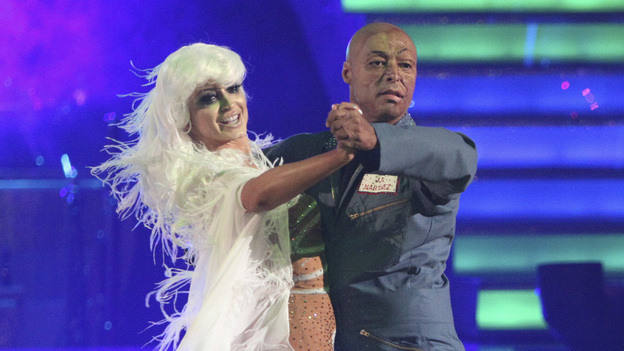 What happened to these guys? I think the pressure is getting to both Karina and JR. Their scores still reflected that he is a talented dancer – more so than most of the competition – but their dance was, as Len said, "substandard." I am not worried about them though, they'll be fine. And, they still got a 9 from Carrie Ann.
David Arquette and Kym Johnson
24/30 cha cha cha + 23/30 team tango = 47/60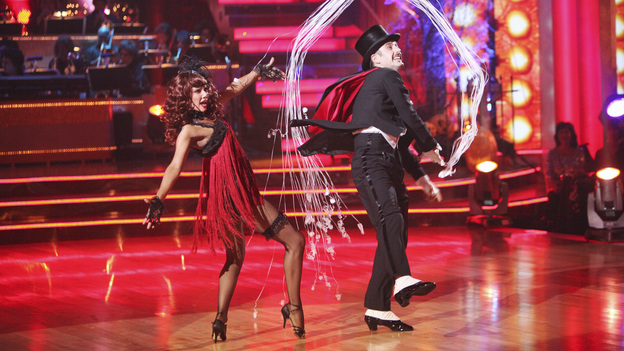 Sometimes David's Kookiness drives me crazy, but I still like him. And Lisa is still giving all her votes to him online! At the end of David and Kym's cha cha, which I thought he pulled off rather well, David tried to "cast" a spiderweb and it just kind of landed on his head, like a mess of silly string. He did great in the team dance though….even showing JR a few tricks! Who thought that day was ever going to be?
Nancy Grace and Tristan MacManus
21/30 jive + 23/30 group tango = 44/60
Honestly….bless her heart for making it this far! That song was redic to do any dance to (Devil went down to Georgia!?!), let alone Nancy Grace?! She made it thru…but for how much longer?
Who is going home tonight? Honestly, I don't really know. As much as I love Maks…..if it isn't fun anymore you should cut it off. So, I feel like either Hope or Nancy will go home – and deserve to.