As we were reminded multiple times last night, it is WEEK 6! Apparently, this means that Len is super-grouchy, and the judges are finally speaking their mind, instead of coddling the lesser-talented contestants (yes, I mean you, Chaz). It also means the scores, and the stakes, are climbing higher! Themes continue, with this week being Broadway tunes – making the absence of our dear Carson Kressley so much more obvious. On a side note, it was interesting to read articles last week on how upset everyone was at the loss of Carson. Carrie Ann even said her hairdresser wouldn't come back since Carson had left! It was a sweet gesture to have him back on this week.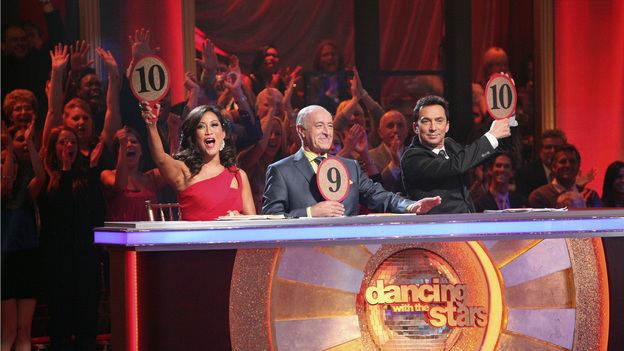 But voting off the fan favorite definitely shows the shift in voting priority! At this stage of the competition, viewers start to vote differently: contestants begin to drop off based on actual talent, rather than the popularity contest it has been until now. There are a few exceptions each season of course (Marie Osmond = Top 3? Ha!), but it was obvious last night that the judges are taking this more seriously, and so are our 'stars'. As an added bonus this week, I thought it'd be fun to re-examine my predictions from episode one – the list is at the end of the recap!
But first, here's a recap of the dances, in order of overall score: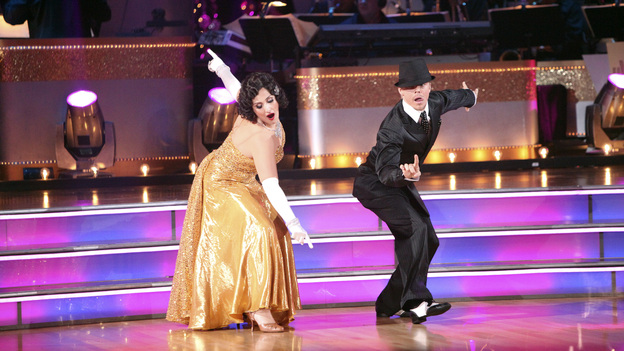 Ricki Lake & Derek Hough, 29/30:After a really bad week last week, Team Drickulous is back on top! Her performance this week was spectacular! Carrie Ann awarded her an invisible Tony award, but Mr. Grouch acknowledged what we all know (he's finicky) and wrecked her chances of the first perfect 10s of the season. I expect she'll break through Len's tough exterior next week.
J.R. Martinez & Karina Smirnoff, 29/30: Ricki's toughest competition is definitely J.R. Karina doesn't often get to dance with this talented a competitor (previous dance partners include the Woz, and The Situation, for example), but this week she told J.R. that she was giving him the most challenging routine she's ever attempted on DWTS. And did it ever pay off! Fabulous routine! Len compared JR to former DWTS winner Helio Castroneves, who was out in the audience, saying that JR's quick step was the first to match Helio's. But, yet again, Mr. Grouchypants was the lone obstacle to a perfect score.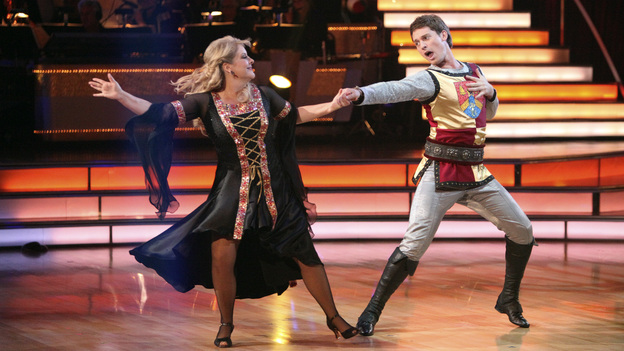 Nancy Grace & Tristan MacManus, 24/30: If Rob is most improved, Nancy is right behind him. Carrie Ann declared her dance a "showstopper!", while Mr. Grouchy Len didn't quite agree. Bruno balanced the two out, with the judges giving Nancy a score of 9/7/8 respectively. Last week she was bottom three, this week, she's top three! (and I still can't get Spamalot's "Always Look on the Bright Side of Life" out of my head)
David Arquette & Kym Johnson, 23/30:I love how David gets my favorite music pieces! Indiana Jones, and now Grease! And his daughter, Coco, screaming for him from the front row is adorable! The judges scored him a couple points lower than last week, although in my estimation, that is more on the judges for providing real scores this week, as the quality of the dance seemed on par with previous weeks. I don't think he'll make top 4, but he is always fun to watch!
Rob Kardashian & Cheryl Burke, 22 out of 30: Rob has been steadily improving and becoming more confident each week. This week saw a slight downturn, however, as Len proclaimed he had "no rhythm", and Carrie Ann noted it was not as good as last week, but that he had more charisma.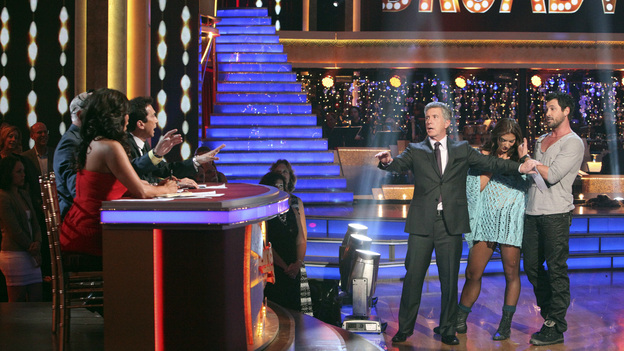 Hope Solo & Maks Chmerkovskiy, 20/30: Of all the contestants, I am most disappointed in Hope. There have been so many athletes who have excelled at dancing. They almost always start off a little rough, but improve greatly due to their years of training. Hope Solo is absolutely the most unimproved in this competition. Her week one score was 21, and she has only managed to improve to 24's three weeks in a row. This week, she drops down to 20. Compare that to Ricki (up from 20 at week one to 29 this week) or JR (21 the first week, 29 this week), and Hope comes of as a disappointment. Carrie Ann was the nicest of the judges and told her that it was nice to finally see her relax. Len set off a Maks thunderstorm, calling it "worst dance of whole season" and essentially dismissing the audience by saying that they only applaud on the look of the dance, not the quality. After some harsh words, and Maks suggesting Len find work elsewhere, Bruno balanced out the judgment by complimenting her performance, but noting that the technique was not as good as was expected.
Chaz Bono & Lacey Schwimmer, 19/30:FINALLY! Chaz gets the feedback and the scores he deserves. I have to say I do feel a little bit bad. The judges have been coddling him for weeks, so it does seem so harsh to all of a sudden say what should have been said weeks ago. But, it does not make it any less true. Even Lacey brought up that this is week 6, and the judges expect more. The scores were lower than the past few weeks, although, again, I feel this is due more to the judges being more serious about things, than to his talent diminishing. The dance was just as good as previous weeks, which is to say, the 19 was absolutely fair. But, understandably surprised by the sudden shift to negative feedback from the judges, Chaz' only response to his score was, "not much to say, is there?"
Group Dance.I always love the group dances! It shows the difference in talent between the contestant in a way no other dances can. But I was terribly confused by this group dance. Did they not judge it? I thought they always did? And the content was soooooo short – just a series of lifts that really didn't highlight any real dance talent. The whole thing was so weird. Maybe it was just me. The judges did call out their favorites (Len: Ricki and Rob, Bruno: Rob, Carrie Ann: Nancy). This also feels like a shift from the usual in that usually the show is reduced to an hour and a half at this point in the season. However, last night was still 2 hours. They had plenty of time for Kristin Chenoweth to provide filler. Now, I will never complain about extra Kristin Chenoweth, but enough with the filler!
Now, as promised, here are my original predictions. Definitely some surprises along the way!
Hope Solo – she has not improved much sadly. I don't think she'll be making it much further
Ricki Lake – no surprise, she is dominating!
David Arquette – he has not blossomed as much as I'd hoped for, but is putting on a good show
Chaz Bono – should have been gone so long ago, but as I'd predicted, the audience is keeping him in it.
JR Martinez – Even better than I'd thought! I think he will be #1 or #2
Chynna Phillips  – Fourth one out – I think she could have done better, but she just didn't have the votes
Carson Kressley – Fifth out – not surprising for his lack of talent, but still a sad loss to the dancefloor in sheer performance and entertainment value.
Elisabetta Canalis – Second one out – she was gone even earlier than predicted. Lack of talent, or jealous women who are bitter she had her shot with George?
Kristin Cavallari – A very surprising third contestant out. Like Chynna, she should have made it farther, but again, no votes.
Nancy Grace – her success is the most surprising to me! Who knew the old broad had it in her?!
Ron Artest – First out! Not enough personality to even hold on a week. Good riddance.
Rob Kardashian – another refreshing surprise! He's been improving each week and I think he has a legit shot at final four! Take that Kim!