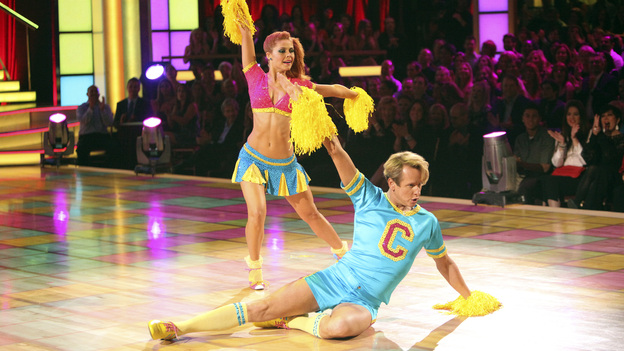 Was everyone else feelin' the 80's theme night last night on DWTS? While I reallyliked the music and the costumes, (Maks' Prince jacket anyone?) it was sort of hard to tell exactly what dance they were actually doing. And what was up with the judges bickering and talking over each other like crazy?! Too much madness! Perhaps "theme nights" should say adios! Or, maybe I was just distracted….although, as I heard on Regis and Kelly this morning, Kelly said the SAME THING! What are your thoughts?
Before we get to the dancing, would anyone else buy a Funk-a-Teer t-shirt? Just me? Awesome!
OK! On to the dancing!!
J.R. Martinez and Karina Smirnoff: 28 out of possible 30 Bruno Tonioli, understated as always, called J.R. "a loin-shattering sex machine" and marveled that a woman on one of the upper levels had enjoyed J.R.'s loin-shattering hip action so much that she was about to throw herself off the balcony. That's when you know you're muy caliente.But I agree, he really was awesome and is giving Ricki a run for her money!
David Arquette and Kym Johnson: 25/30. He has become quite the Ballroom Dancer reminding Kym NOT TO BREAK HOLD! I even liked his Len impersonation. I wonder if David and Kym's "anarchy in the ballroom" leather/dominatrix costumes were more convincing than their actual tango moves, but I was honestly too mesmerized by the paint splatter lighting on the floor to notice.
Rob Kardashian and Cheryl Burke: 25/30 This kid has become what all of us thought David would have been and I am shocked and sort of proud of how far he has made it. And he gets better every freaking week! Rob had season 12's Romeo, his friend from USC, (I know….I was a little shocked he went there too! I thought you had to be smart to get in there? Maybe you just need a lot of money?) show him how to take command of the dance during rehearsal.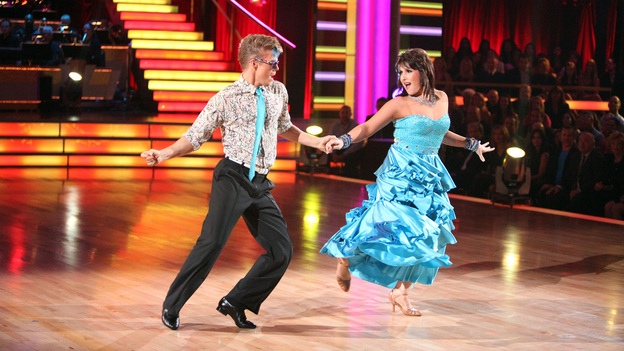 Ricki Lake and Derek Hough: 24/30 Oh, how the mighty have fallen! So, I didn't think that they were that bad: everyone is allowed to have an off night right? Besides, if John Waters came to visit me I would have been so creeped out and distracted that I would have danced a little worse too! Next week is Broadway Show Tunes theme, which they will sorock! I am sure that they are safe from elimination this week.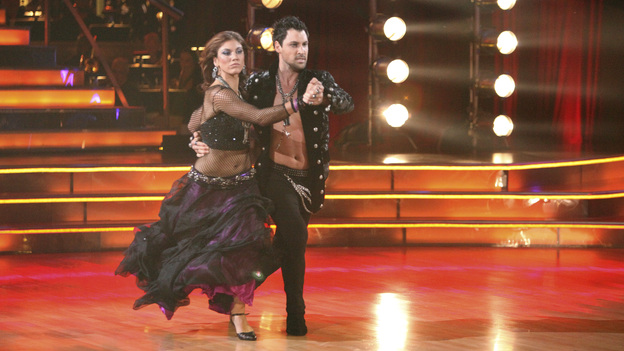 Hope Solo and Maksim Chmerkovskiy: 24/30 Len Goodman came down rather hard on Hope's lumbering tango, as well he should have, but then he ended up giving her one of three 8's, so all the constructive criticism meant very little. Carrie Ann Inaba also told the soccer star that she pictured her being at the top for weeks to come and, well, I'm just befuddled by that. Lets just say my favorite thing about their routine was Maks' outfit. But what exactly was 80's about Hope's? I feel like I am turning on my girl! I wanted her to win….but I feel like she has turned on me too and isn't giving it her all! Stop being stubborn and listen to Maks!!!
Nancy Grace and Tristan MacManus: 22/30 I loved Nancy's high school cheer recitation from out of nowhere, and Tristan's imitation of Nancy on her cable show as a teaching moment. "Whoa. Whoa. Whoa. Whoa. Just let people finish their sentences!" Their dances might not ever deliver the biggest wows of the night, but this week's rumba seemed less stilted than usual.
Chaz Bono and Lacey Schwimmer: 21/30. UGH!!! I want him gone SOOOO bad, but he freaking danced his ass off last night for the first time, so I am sure he is safe. I loved that Lacey's dad came to show him how "a big man can shake it!" and it worked. As Chaz calls him, "the Dance Whisperer." PLEASE, oh PLEASE, go and visit Hope next week! She needs you more than this yahoo!!
Carson Kressley and Anna Tre-BUN-skaya: 19/30C is for Cartwheel! That's good enough for me. I mean, obviously this jive was a hot mess, but he gives me such a smile on my face every time he is out there dancing! Even Len has a special place in his heart for Carson! Lisa has told me that all her votes are going toward Carson until Chaz is gone and I agree with her! The show would not be as fun without him!
Who is going home this week? I say Hope or Nancy.
Who SHOULD be going home? CHAZ!!!!! I know I sound like a skipping record, but it is the truth. We're at a point where the least talented dancers should start going home.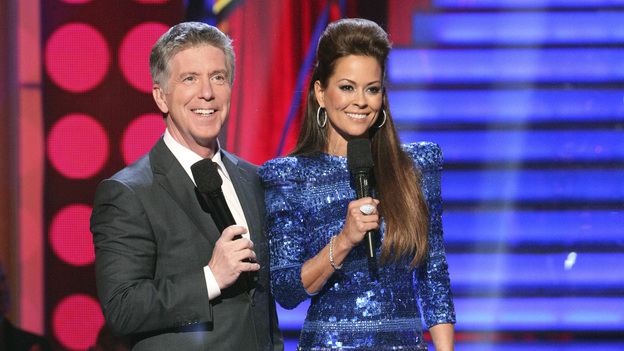 And yes folks….it wasn't your imagination….Brooke was actually covering BOTH shoulders at once this week! Mark it on your calendar!
Here's a recap of scores from last night:
J.R. Martinez & Karina Smirnoff: 28
David Arquette & Kym Johnson: 25
Rob Kardashian & Cheryl Burke: 25
Hope Solo & Maks Chmerkovskiy: 24
Ricki Lake & Derek Hough: 24
Nancy Grace & Tristan MacManus: 22
Chaz Bono & Lacey Schwimmer: 21
Carson Kressley & Anna Trebunskaya: 19
Until next week!