Happy Tuesday everyone!  Last night may have been one of my favorite nights of DWTS ever!  Not because the dancing was great ('cause it really wasn't), but I am digging these theme nights!  Tonight was movie theme night, including music from Indiana Jones, Toy Story, Rocky, Pink Panther, Mission Impossible and more. (On a non-dancing side note, did anyone see the Puss in Boots commercial where he has a dance-off with another cat?  LOVE IT!)
Now to the Dancers.
Ricki Lake and Derek Hough: 29 out of possible 30!!  In a word:  AH-MAY-ZING!  Derek did an fantastic job, Ricki was wonderful and solidified herself as the best dancer out there,  AND as a special bonus……it looks like she has lost weight and looked amazing!   First 10's of the season that were well earned.
J.R. Martinez and Karina Smirnoff: 26/30 Their foxtrot was another high-quality production on all fronts — set design, perfect polka dot lighting, props (enormous pink gem), J.R.'s flashlight timed perfectly with the music, ECL on the Vibraphone — but I digress. I thought the tone Karina set for the Pink Pantherroutine was perfect, especially the way they cautiously and playfully circled around each other at the beginning, and the slow 'n' smooth butt wiggle in unison in the middle of the dance. I feel like a lot of dancers who aren't as good rush through the song, then try to add some sort of gag or slapstick to make up for their lack of skills. Or maybe I am cranky like Len this week? You decide.
Rob Kardashian and Cheryl Burke: 24/30Ok, I admit, Rob is doing WAY better than I ever thought he was going to do, and, in my opinion, wins most improved. They did the theme from Superman.  While I don't think it was anything special or spectacular, it was an improvement and I expect him to go much farther than expected
Hope Solo and Maksim Chmerkovskiy: 24/30  Oh, Hope! I had you winning the entire show, but after last week and this week I think we'll be lucky if you make it past tonight!  This foxtrot, set to Toy Story's "You've Got a Friend In Me," was probably the friendliest we've seen Maks — and this was after he and Hope had butted heads during rehearsal footage.  But seriously, she just needs to stop arguing with Maks and dance.  I thought she looked mediocre last night, but the judges were kinder.
David Arquette and Kym Johnson: 23/30   In my opinion they did way better than Hope and Rob, but sadly their scores didn't reflect that.  Maybe I just love Indiana Jones so much it didn't matter, but I thought the whole thing was wonderful and David is FINALLY becoming the interesting and endearing contestant we all knew he could be!
Chaz Bono and Lacey Schwimmer: 21/30   I don't have anything nice to say about this dance. My mother told me that if you don't have anything nice to say, keep it to yourself.  If you can't tell, I thought it was horrible! Granted, I DID love the fact that they brought in Richard Simmons.  He is hilarious and needs to be on the show!!!  You hear me, Dance Master?!!  I am talking to you!
The ONLY thing good abut Chaz's dance last night: Cher with her dreds ….ugh.
Nancy Grace and Tristan MacManus: 21/30  Is it just me or has she lost a lot of weight since week one?  She physically looked great last night, and I love her partner.  Now…her dance? That is another story. I thought the judges were VERY kind to her with her score.
Chynna Phillips and Tony Dovolani: 21/30  All I have to say is that this girl is a hot mess and needs to pull it together. Enough said. If she makes it past the elimination tonight, she will need to pull up her big girl pants and grow some lady balls to move onto the finales!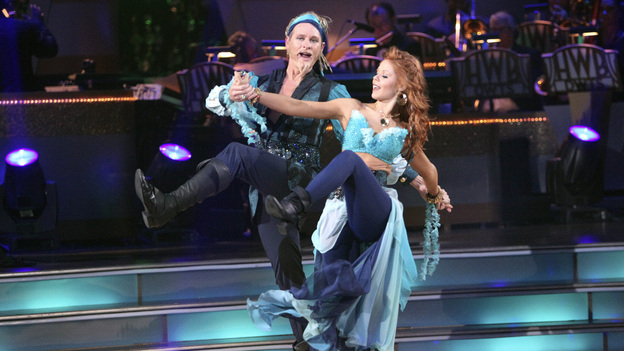 Carson Kressley and Anna Tre-BUN-skaya: 20/30  I LOVE me some Carson! I feel like Carrie Ann, I can't wait to watch him dance and I smile the whole time. He is just so fun!  A horrible dancer, but so much better to watch than the 5 couples above him! Enough said.
Quote of the night: "Pirates are basically guys running around in tight pants and open shirts, looking for jewelry. Um, I think I can handle that." –Carson Kressley
Who do you think is going home?  Or rather I should be asking who deserves to go home versus who will be actually going home?!
Here is my Answer:
Going home tonight:  Hope or Chynna
Who SHOULDbe going home?! Do you need to ask?!! Freaking CHAZ BONO!!! Please put us out of our misery and call it a day, my transgender friend.
And with that I bid you all adieu until next week!  What will the theme be now?!?!