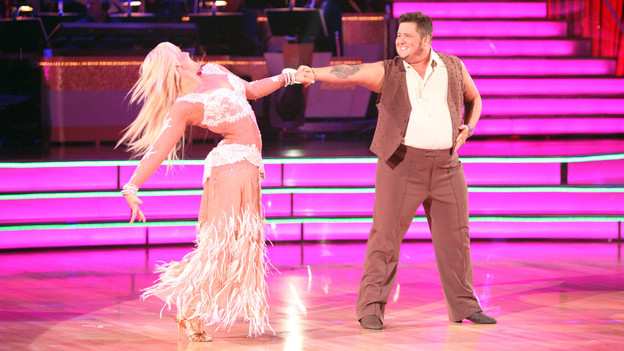 OK…that may be the only snarky thing I have to say about last night. (Ha! Who am I kidding?!)  It was just a whole lot of loving, crying and support on last night's Dancing With The Stars. The 10 contestants were to pay tribute to the most memorable year of their lives. (and as a side note…they got to pick their own music, which I THINK is a first for the show? Other than freestyle, of course). We've got some real tearjerkers in this bunch! The spectrum of humanity we witnessed was huge and heroic (Hello, J.R. Martinez), tragic, serious, and even uplifting — you know, like Kristin Cavallari's decision to choose Hollywood over college.  (Oops! There is that snarkiness I was trying to cut down on )
This week we are going in order of highest score to lowest rather than when they came out:
Ricki Lake and Derek Hough: 27 out of possible 30 When I saw Ricki's crimped hair, I thought the most memorable year of her life would turn out to be "all of the '80s," but nope, it was 2010, the year she ran out of her burning house and then let herself love again. I loved how she rattled off "I thought I would never get married again; I thought I would never do Dancing With the Stars" as if those were two life options that just happen to casually present themselves to people. Stars: They're not just like us, after all. I was surprised by the three 9s for this rumba based on Ricki's performance, but she did look really hot — and thin! And the scores seemed to be as much for Derek's choreography as they were for her technical prowess.  AND! Did anyone else feel like she looked just like Punky Brewster?!  Maybe it was just me…
J.R. Martinez and Karina Smirnoff: SCORE: 26/30 This rumba—dedicated to the families of soldiers who didn't get the second chance J.R. did—will definitely rank among the top routines in DWTShistory because of its emotional impact. J.R. did great and his feet "skimmed the sand" like Bruno has always wanted — but I think MVP of the night was actually Karina for her careful and not too schmaltzy orchestration of such a beautiful routine.
I loved the way she reached out for him at the end and we were brutally reminded that he hadn't truly been present (in the dramatization of Tim McGraw's "If You're Reading This") all along. Off he strode, up to ballroom heaven to be swallowed up by the DEADLY SMOKE MONSTER. The judges couldn't even say anything for about a minute because the on-their-feet crowd just wouldn't let up. The impact of this dance was huge, and both Karina and J.R. puffed out their cheeks on the way up to Brooke-bot Mountain — almost in unison — as an unspoken "Whoa."
Chynna Phillips and Tony Dovolani: SCORE: 26/30. "You belong in a museum, to admire!" cried Bruno. I liked how Tony seemed to really be feelin' the music right from "Why do you lock yourself up in these chains?" It was as much a teaching moment aimed at Chynna's tendency to be hard on herself during rehearsal as it was a reflection on her plummet into addiction and feelings of abandonment from her father. Okay, maybe that's a stretch. Did anyone notice her outfit or lack there of?  Woah…and man is she flexy!
Line of the night:Carrie Ann to Chynna: "I have never heard that song the way I just heard it now." Ha, you think?! I'd love to have seen Carnie and Wendy's faces right at that moment.
David Arquette and Kym Johnson: 24/30What has happened to our lovable David? Is Rob taking over his charming spot? David performed a rumba dedicated to David's daughter, Coco. I loved the "vintage" photo from last week of Coco staring up at David in awe near one of the big lights on the ballroom floor.  The judges raved about David's "raw emotion" and honesty. I thought a lot of the dance was Kym frantically twirling around while David didn't do much, but that probably doesn't matter too much on Story Night!
Kristin Cavallari and Mark Ballas: 24/30Awwww! Kristin's former fiancé Jay Cutler still loves her!!!!!! At least I'm guessing that's what ABC was going for. Kristin and Mark's "Crazy in Love" samba was a very welcome helping of lighter fare from the more somber rumbas of the night. I didn't think Mark went too overboard with the Beyoncé moves and Kristin seems to have a great sense of rhythm. She's quite skilled at stepping on the beat, and her hip action — when she wasn't concentrating too hard on her next move — was natural enough. She needs to cut it out with the hairography though. But lets get down to the "reason for the dance."  Ooohh…..that's right….she had to pick Hollywood over College. Poor girl!
Rob Kardashian and Cheryl Burke: SCORE: 24/30 I liked how up-front Rob was about how his late father, Rob Kardashian Sr., was "probably best known for being the attorney in the O.J. Simpson trial." Rob seems to be steadily improving — plus, he's getting into great shape, as evidenced by the way he bounded up the massive technicolor staircase to ballroom heaven in order to end the dance with Cheryl as silhouettes against the moon. Only after the rest of the audience was on its feet to cheer Rob on did Kim K reluctantly realize she'd probably have to stand up, too. (She is such a robot!)  "You remind me of Guys and Dolls," Bruno complimented Rob. "It's a video game," Tom helpfully pointed out so that Rob might retain it. Good Lord. I own a copy….you can borrow it!
Hope Solo and Maksim Chmerkovskiy: SCORE: 24/30I think a lot of viewers might rather see two minutes of Maks teaching Hope how to do the "Sexy Walk" in slow motion instead of an encore performance of their cha cha cha? Who here was surprised to hear what Hope's song was? Her sass factor just went up in my book! Enrique Iglesias' "Tonight (I'm Lovin' You)." In fact, I was so distracted by her "duck face" I had a hard time watching her dance. But what about her outfit?  With her pouffy black skirt (to mask a lack of hip action?) and delightfully trashy patterned stockings with garters. And was she wearing a long, reddish weave? I am not sure who told her that was "sexy" but she needs to fire Ke$ha as her stylist! For next week she'll work on repeating her new mantra (issued by Maks): "I am sexy,"
Carson Kressley and Anna Tre-BUN-skaya: SCORE:23/30 I just love Carson so much. "Carson can't climb the rope. Carson can't play volleyball." I mean, that stupid, impossible rope is one thing—no one can do that (and no need to brag in the comments if you could; shut up!). So I loved Carson's explanation of why 2003 was his game-changing year—it wasn't necessarily because he became famous along with the debut of Queer Eye for the Straight Guy; it was because "It was just me being me," and for the first time he felt like that was okay, even desirable. I teared up here! I'm a loser. Man, I used to love that show.
Nancy Grace and Tristan MacManus: SCORE: 21/30 Nancy dedicated this dance to her kids, because in 2007 while pregnant with twins, her lungs filled up with fluid, "and they had to cut the children out immediately" (they're both ok, for the record). It was nice of Tristan to point out how much more fun and relaxed Nancy is around her kids—I definitely noticed the difference. Carrie Ann, on the other hand, had been "transported" into the woods for Nancy's "live action lullaby…like, all the animals from the forest came in to watch you dance." Tom was funny here—"Let's give Carrie Ann's imagination a 10″—but now I'm dying for an encore performance during tonight's results show, with the actual Snow Whiteanimals thrown in around the ballroom as hidden gems. Come on! It's Disney! Let's make some magic!
Chaz Bono and Lacey Schwimmer :SCORE: 18/30This rumba, if you could call it that, was certainly nothing to write home about. Chaz looks pained and spent. The real marvel of this segment was the song he chose for the dance dedicated to his dad—Sonny Bono's own "Laugh at Me." I have never heard of this awful song! I almost couldn't believe how perfect it was as a re-telling of Chaz's own story though: "It's about being a different kind of man."
Carrie Ann and Bruno remarked on Chaz' lack of dancing and the way he looked "lost," while Len—who was in a much kinder mood this week—gave Chaz a premature farewell speech. "Dancing doesn't come that easy to you. You come back and give it your all—shows a lot about your character. Well done." I won't be surprised if Chaz goes home tonight. In fact….he is who I call WILL go home tonight!  What do you think?